Joel Embiid was great in the three overtime loss to the Thunder, but played 49 minutes, and 88 minutes in the last two games with a sore back. Is this too much? Would you trade for Paul George knowing he's a free agent? ESPN did a whole day on the Sixers and din't say the name, some Bryan Colangelo Relationship advice and Around The League with Ish Smith.
Amazing news, the first 200 people into Friday night's live Ricky, We Were Right Before Christmas, will get the incredible Allen Iverson Philly Word Art print, featuring all of his stats from his MVP Season. You'll also see a live BGN Radio pod, Larry Poff (he's our baby), the Ringer's Chris Ryan, and get a photo with Jake Pavorsky. First 150 people also get a $150 LL Pavorsky gift card (off a purchase of $500 or more) and there ARE KORNBLAU T-SHIRTS. Tickets below.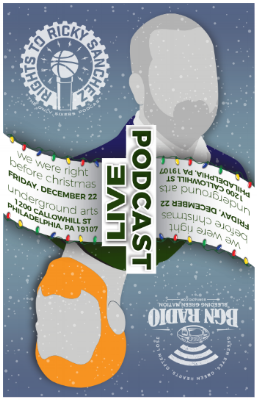 ($18 Advance, $20 day of show)
We are proud to partner with The Athletic, the premium sports site for smart people. You are a smart person. We are smart people. We've spent the last four years proving that. So you deserve the best possible sports coverage, and The Athletic provides that. They got Godner. They got Rich Hofmann and Mike O'Connor, all covering the Sixers. They got Sheil Kapadia and Bo Wulf covering the Eagles. SHEIL IS BACK! They've got Charlie O'Connor on the Flyers and Liz Roscher on the Phillies and so much more.
AND GET THIS! If you subscribe for one year using the link theathletic.com/rtrs, you'll get 25% off!
LL Pavorsky is the official Jeweler of The Rights To Ricky Sanchez, and 59 listeners have purchased engagement rings from him. LL Pavorsky is located at 707 Walnut St. in Philadelphia, online at LLPavorsky.com, on the phone at 215-627-2252 or just hit Lee up on Twitter @LLPavorsky. Tell him you're a Truster, he's one of us. For every show, Lee makes a generous donation to Justice Rescue and the National Coalition Against Domestic Violence.
Kornblau and Kornblau (specifically Adam Kornblau) is the official Lawyer Of The Process! The firm handles every kind of personal injury, from work accidents, to slips and falls, to serious medical malpractice. Adam is a great guy, a truster of the process, and knows his stuff. Kornblau and Kornblau has offices all over the area, and will come to you. Call Adam at 215-576-7200 (ask for Adam), or email him at kornblau@kornblauandkornblau.com.