Thanksgiving has passed, so has Black Friday, so we kick off Super Saturday by rehashing the LeBron to the Sixers story, worrying a touch about Ben Simmons' elbow, discussing the two comfortable wins over Portland and Utah, open up the Lorenzo Brown mailbag, and who would win in a one-possession battle, TJ or TJ?
The second Live Ricky is happening on December 22nd at Underground Arts with our friends in BGN Radio. We have some special guests planned and we're looking forward to partying deep into the holiday night with you. Tickets are $15 through Monday then they go up to $18, so don't wait!
PS: This is Mike's college TV show that he mentioned early in the pod.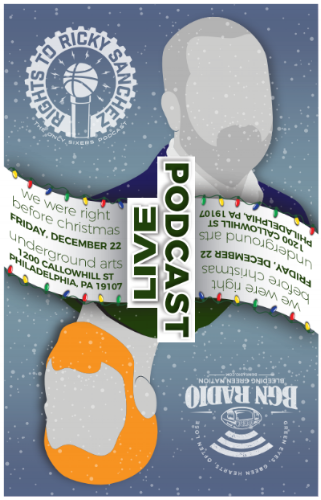 We Were Right Before XMAS
Here is where you can sign up to Polar Plunge with Spike on December 1st to benefit the Special Olympics of Philadelphia and have a chance at front row tickets for Sixers vs. Knicks.
Finally! The Say The Name shirt is available in the t-shirt store.
Kornblau and Kornblau (specifically Adam Kornblau) is the official Lawyer Of The Process! The firm handles every kind of personal injury, from work accidents, to slips and falls, to serious medical malpractice. Adam is a great guy, a truster of the process, and knows his stuff. Kornblau and Kornblau has offices all over the area, and will come to you. Call Adam at 215-576-7200 (ask for Adam), or email him at kornblau@kornblauandkornblau.com.
LL Pavorsky is the official Jeweler of The Rights To Ricky Sanchez, and 59 listeners have purchased engagement rings from him. LL Pavorsky is located at 707 Walnut St. in Philadelphia, online at LLPavorsky.com, on the phone at 215-627-2252 or just hit Lee up on Twitter @LLPavorsky. Tell him you're a Truster, he's one of us. For every show, Lee makes a generous donation to Justice Rescue and the National Coalition Against Domestic Violence.
The LL Pavorsky annual holiday party is December 9th from 5pm till 9pm! Spike will be there, and LL will give away over $10,000 in prizes, while everything in the store is 20% off. Not to mention the Pavortinis will be flowing. You HAVE to RSVP HERE, and dress to impress (keep the RTRS t-shirts under your real shirt).
We are proud to partner with The Athletic, the premium sports site for smart people. You are a smart person. We are smart people. We've spent the last four years proving that. So you deserve the best possible sports coverage, and The Athletic provides that. They got Godner. They got Rich Hofmann and Mike O'Connor, all covering the Sixers. They got Sheil Kapadia and Bo Wulf covering the Eagles. SHEIL IS BACK! They've got Charlie O'Connor on the Flyers and Liz Roscher on the Phillies and so much more.
AND GET THIS! If you subscribe for one year using the link theathletic.com/rtrs, you'll get 25% off! What a great deal. If you took advantage of the Right Side Of History t-shirt special, you'll get your shirt within three weeks.